We deliver expert-led online training to help improve and sustain the mental wellbeing of you and your team, and we back it up with 24/7 digital support to help with even the toughest challenges.
All of our content is based on proven psychological techniques and created by clinicians and coaches with extensive experience in Cognitive Behavioral Therapy. Our methods really work.
We know you're busy. That's why our workshops and strategies are designed to be high impact without demanding too much of your time. And it's a simple process to give your team access to our app.
Title
Your needs met, anytime
Get the assistance you need any time, anywhere
The Companion app for iOS and Android is there for you 24/7, enabling you and your team members to get the tools to cope with work and personal challenges, discover related and relevant content and revisit previous training.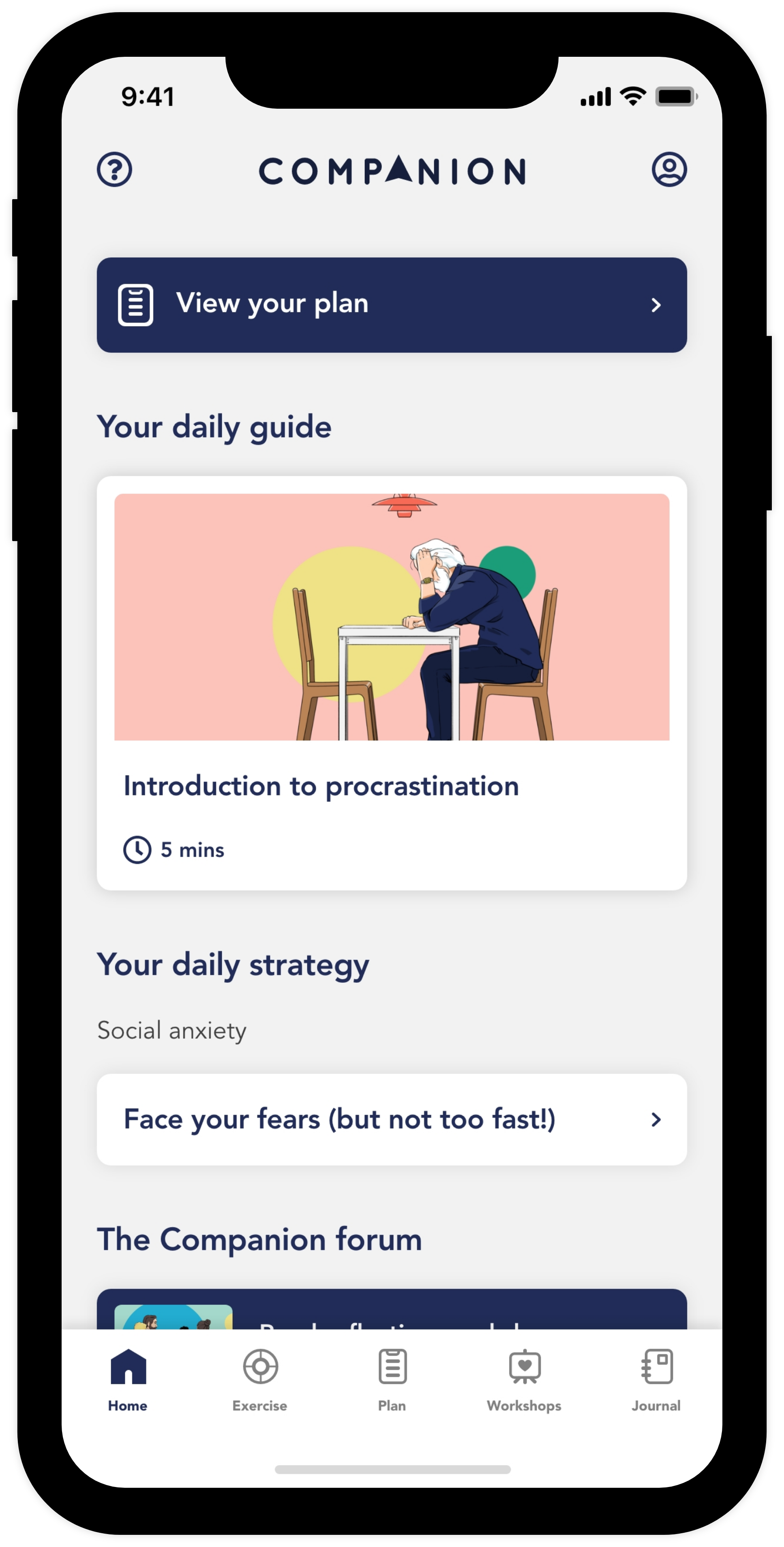 Make it personal
Strategies as individual as you and your team members
Create your personalized mental wellbeing plan full of actionable strategies written by our team of experts. Receive a daily strategy prompt each morning helping you to build healthy habits. Update your plan whenever your needs change.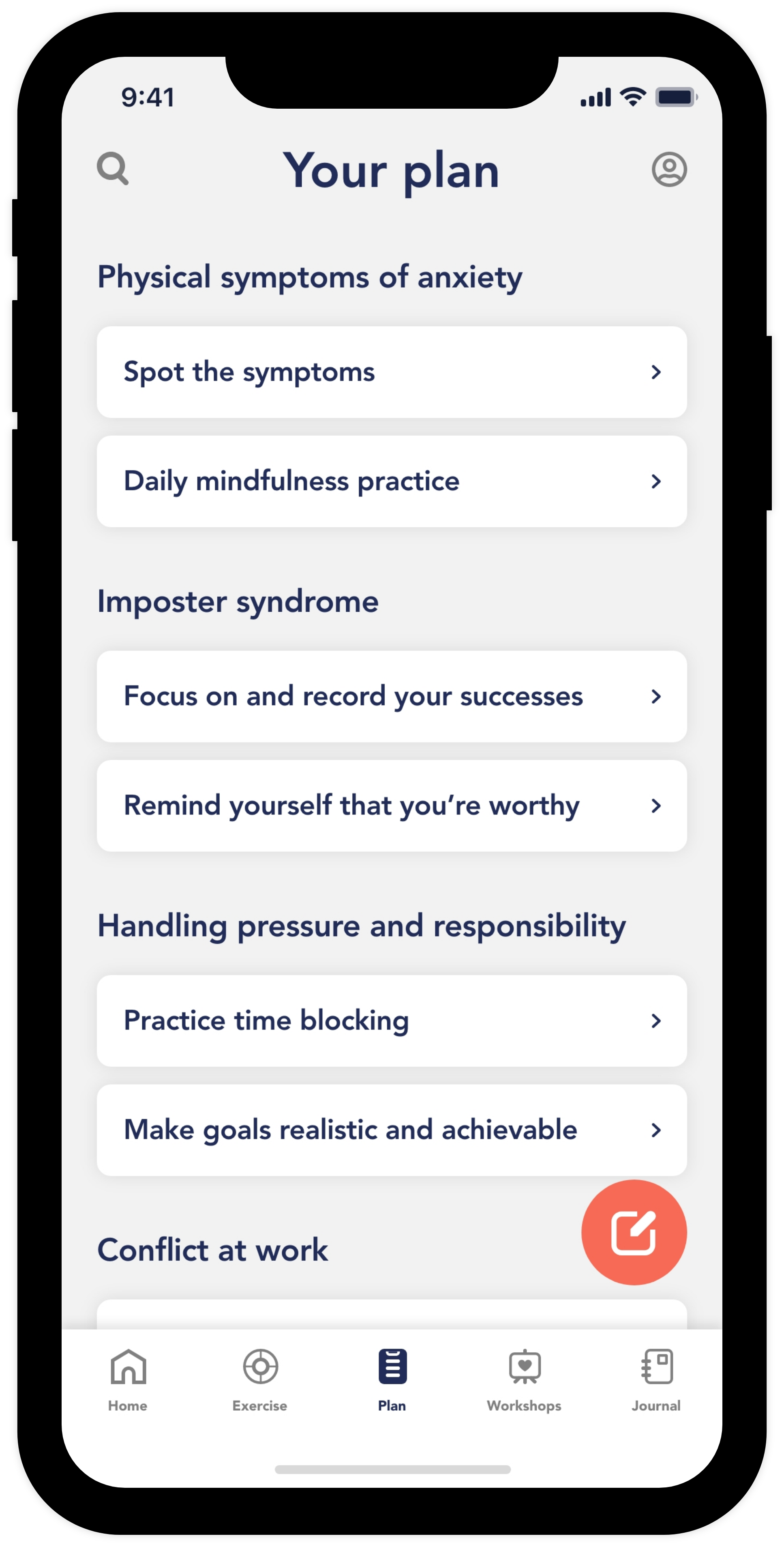 Explore more
Hundreds of proven ways to improve wellbeing at work
We're constantly adding new content to our library of expert audio guides, which already features more than 150 guides covering over 40 different topics. Whether you want to learn about stress, discover how to communicate more effectively or find a better work/life balance, there's an expert audio guide just for you.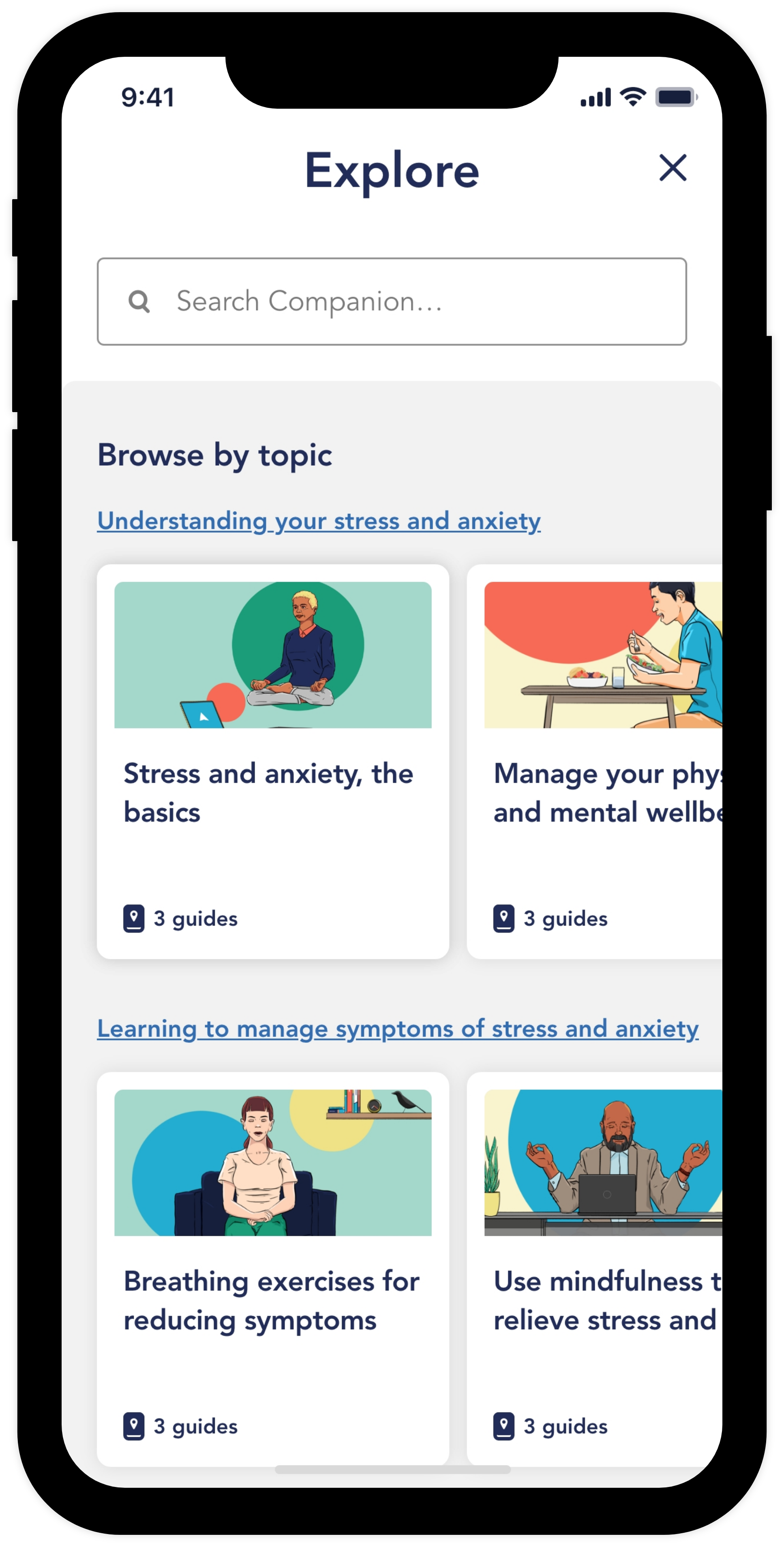 An interactive experience
Companion delivers community as well as expert advice
Our training courses aren't designed to be experienced in isolation: through the Companion app you can interact with other members of your team, share feedback and ask questions of our experts.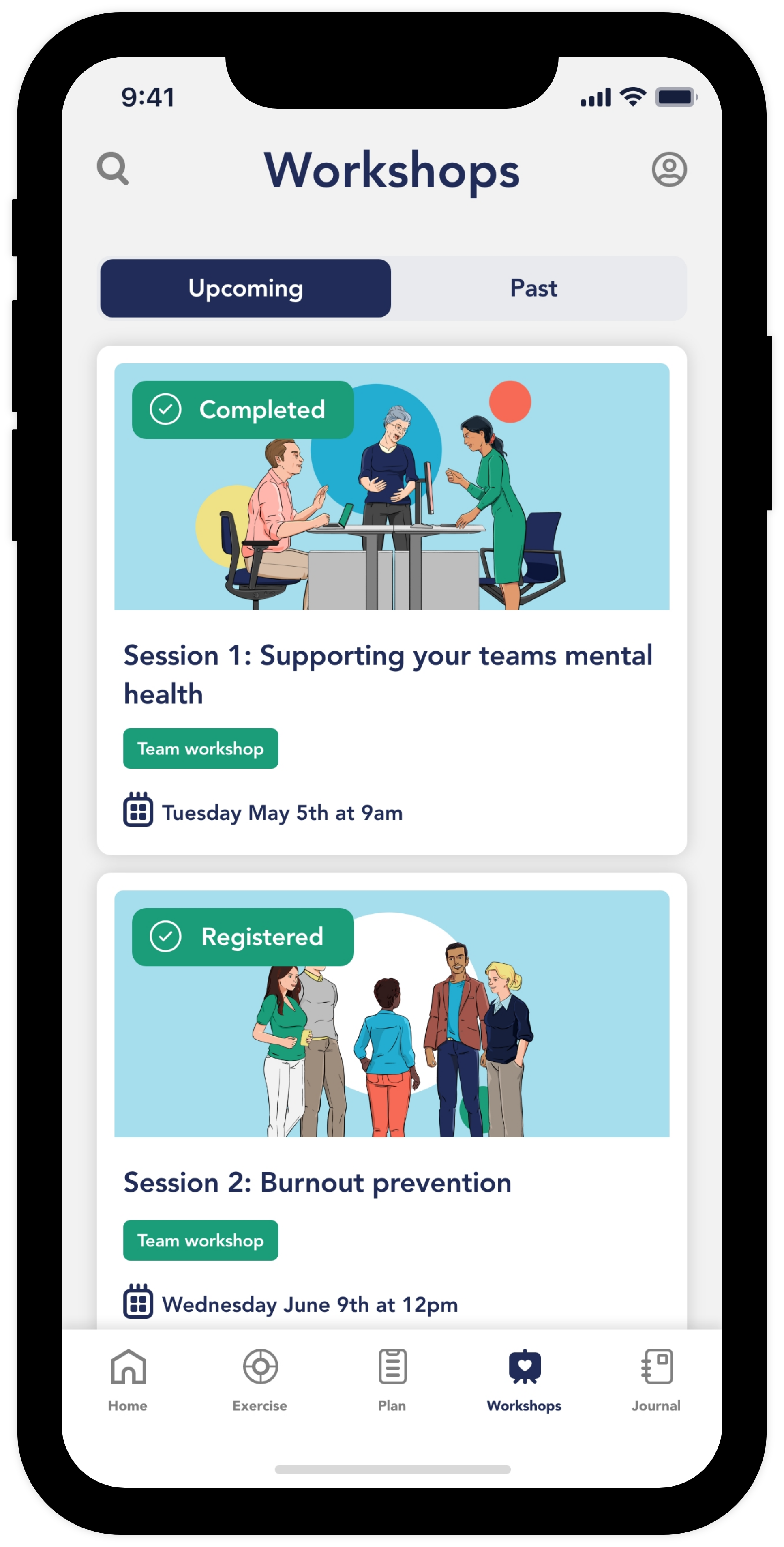 Keep on learning
Companion makes it easy to revisit everything
The Companion app makes it easy to revisit previous workshops, enabling you and your team members to view recordings and worksheets to jog memories and boost motivation.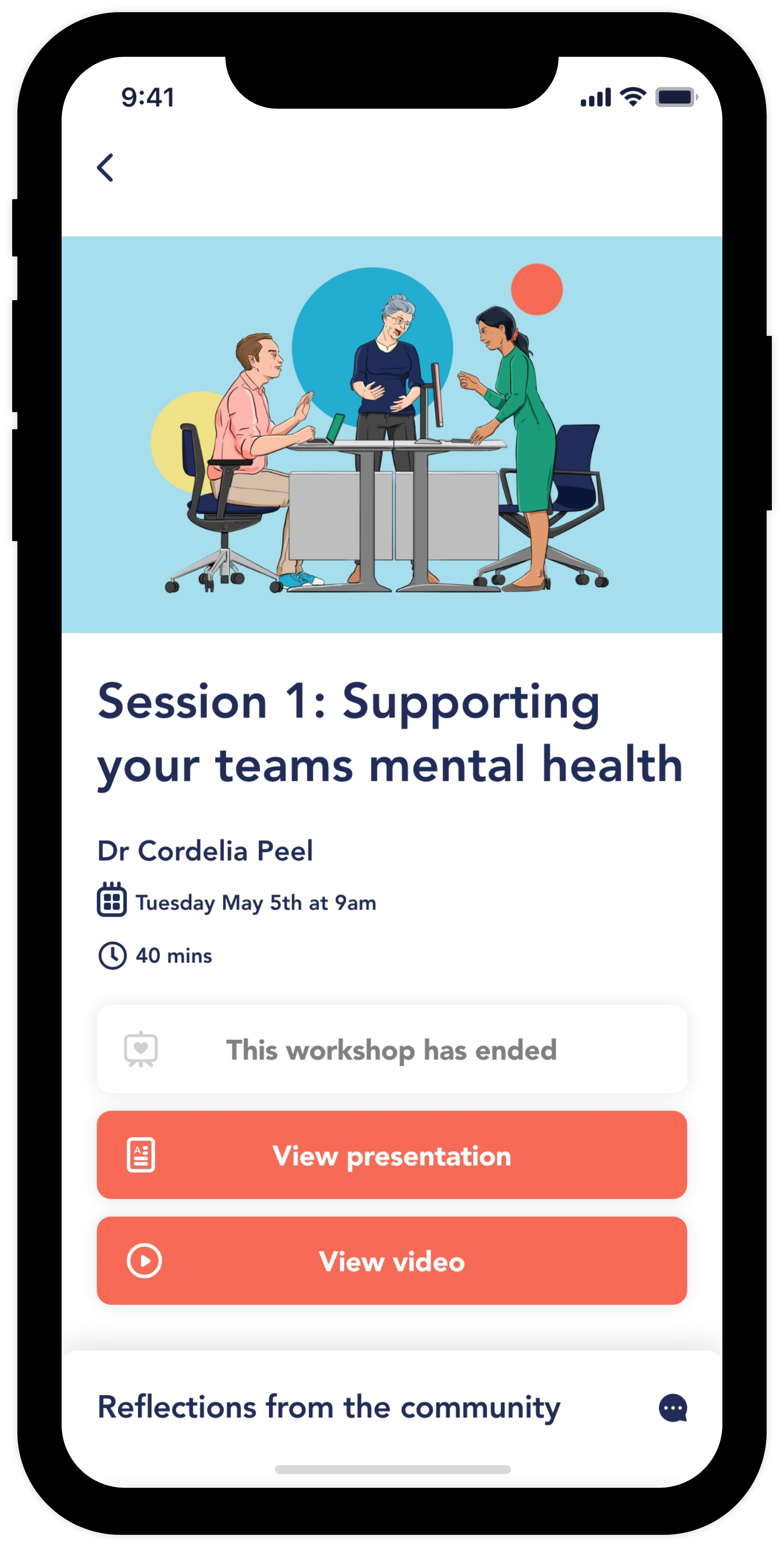 Don't just take our word for it
Companion is helping teams of all kinds feel better and do better.
The speed and efficiency that we were able to roll Companion out across the company was impressive. Our employees jumped at the hands-on approach to the content and strategies presented in the app and training workshops.
As a global tech business operating in our new post-COVID agile working environment, our Companion relationship has been fantastic in assisting with our mental wellbeing training through meaningful and engaging online workshops and content.
Companion is a core component of our team wellbeing strategy. The app and training workshops delivered are invaluable in ensuring the topic of mental health and our continuous learning around this remains at the top of our corporate priorities.
Get in touch